Hello,
I thought I'd find out something about all of the artists on this year's Kompakt Total 16 collection. Seeing as Kompakt, trendily, don't provide any sleeve notes at all, just a simple track listing (with no times or anything else), I've done some digging about and have some background to each artist, to improve your listening pleasure!
It has to be said, that this is always a long-awaited Event – Kompakt's Total collection, because it's not a best-seller's compilation, it's chosen by those talented musos in the Kompakt office – must be fun. So, here is what I found out about this years lot:
01. The Field – Reflecting Lights (Kaitlin Aurelia Smith Mix)
Genre : Electronica
The Field is actually one Swedish man – Axel Wilner who now lives in Berlin – hence his association with Kompakt. In 2004, he submitted a demo tape to and was subsequently signed. He loves the repetitive stuff, sometimes annoyingly (and long-ly), but always engagingly musical. His best stuff is on his LPs : From Here We Go Sublime (2007), Yesterday and Today (2009), Looping State of Mind (2011), Cupid's Head (2013), The Follower (2016). Interestingly, of "Looping State of Mind", Alex said, "All the old influences are still there, but we've made a real attempt to grow the sound." – and his influences are : Misfits, Dead Kennedys, Lionel Richie, Kate Bush, Slowdive, My Bloody Valentine, Seefeel, Wolfgang Voigt's Gas, 1970s krautrock, Moroder, John Carpenter, Steve Reich and Philip Glass. Something for everyone then! I wrote some stuff about The Field in an earlier post.
Kaitlyn Aurelia Smith's career started communicating with Orcas, apparently, then, later in life, someone gave her a Buchla 100 synthesizer, and now she's on Kompakt, pretty good going, I'd say.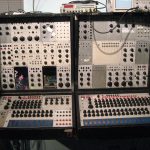 That synth is a huge, patch-bay thing of the ol' days.
02. Weval – I Don't Need It
Genre : Electronica
Weval's name is derived from the Dutch word for 'waterfall', and are two chums from The Netherlands : Harm Coolen and Merijn Scholte Albers – they started in film, which I can here from some of their tracks, and their first EP, "Half Age" on Atomnation, was released in March 2013, not long ago for such a popular Kompakt duo. Their best track is this one – I really like the intro – the boldness of the rhythm (like I was knocked out by Blue Monday, similarly) :
.
Their releases include : Total 14 – Something (Live) – first glimpse of their greatness to me. August 18, 2014; Easier EP : November 24, 2014; Total 15 : August 2015 with hunter/game remix of Gimme Some – Weval's original one was better, and I heard it after this remix; It'll be just … 12″ September 25, 2015; You're Mine single : May 20, 2016; Weval LP/CD : June 10, 2016 – new one out now. All Weval available on Kompakt and iTunes.
03. The Orb – Moonbuilding 2703 AD (Teebs Moon Grotto Mix)
Genre : Electronica
Do I have to say anything about The Orb? You probably know more than me – I'm not sure why they've signed up with Kompakt, to gain some coolio, perhaps! Best album for me is "U.F.Orb" that has the best 'dub' track I've heard outside Jamaica (Towers of Dub – includes the famous 'Babylon and Ting' sample).
04. Lake Turner – Beacon Fields
Genre : Techno
Now here is a Mystery Man, and no mistake – can't find him anywhere, apart from that he's from London (and is a he), has a Facebook page, with one post on it, and on SoundCloud, with one track on it – this one. It's very good, though, hopefully we'll hear more from this chap.
05. Blond:Ish – Endless Games (Patrice Bäumel Mix)
Genre : Tech House
Blond:ish is a producer/DJ duo formed by Canadians Anstascia D'Elene Corniere and Vivie-ann Bakos who have a monthly residence at the Cherry nightclub in Montreal, and seem to partay quite a lot. Unusually for a Kompakt duo (again), they have been commissioned to produce remixes for Depeche Mode, (it's all gone) Pete Tong MBE, Maya Jane Coles, Kate Simko, WhoMadeWho and BBC Radio 1 Essential Mix- yet they do stuff for our German label. I really like their "No Place Like Gnome" :
They have one album out "Welcome To The Present" [ Kompakt | iTunes ] on Kompakt plus many remixes and some EPs.
Patrice Bäumel is a DJ/Producer who has " … been on a mission to create and share music that spreads love, positivity and happiness…" and calls his music "techno music for grown-ups". Yup, I can see what he means – a nice combo here in Endless Games.
06. Coma – Lora (Robag's Fandara Qualv NB Mix)
Genre : Tech House
Coma's Lora has now appeared on more than one Total series, the original on Total 15. They are Marius Bubat and Georg Conrad who create this pop-infused electronics using laptops, guitars, synthesizers and microphones. They started in Cologne in 2007, but only have released two LPs – they're perfectionists you know : "In Technicolor", 2013 [ Kompakt | iTunes ] and "This Side of Paradise", 2015 [ Kompakt | iTunes ]. Also gives me a chance to show you their best video and one for the remix:

"Robag's Fandara" is nowhere to be found, I've asked on RA, so we'll see …
07. Komon & Will Saul feat. Ben Westbeech – Lost In Time
Genre : House
Will Saul appears to be very famous indeed, getting a whole google half-page to his name – founder of Simple Records and Aus Music after working with Sony in the A&R dept. He's another DJ/Producer that Kompakt like so much. And he's on BBC Radio 1 doing the Essential Mix. Perhaps you know him better than I do…
Komon is from Bristol, UK and is a long-time collaborator with Will Saul, so you'll have heard his stuff, as well as Ben Westbeech.
08. Jürgen Paape – Eden
Genre : Electronica
Jürgen Paape is one of the Founding Fathers of Kompakt, and he produced one of the most amazing track's I think I've ever heard, Ofterschwang, so here is my chance to regale you with it again (video is of a motionless gnome, just listen to the track) :

To me, This Is Genius. And the cowbells aren't even in time. Such a pity he hasn't done anything as dramatic before or since. He's the elusive one of the Kompakt founders, never DJing, never performing live, never giving interviews, perhaps he is a genius then. His best work is on his Kompilation CD, which includes "Take That", "So Weit Wie Noch Nie" as well as "Ofterschwang" – the former two are nearly as good as "Ofterschwang", but seem to be club classics [ Kompakt | iTunes ].
09. The Modernist feat. Joe Goddard – The Price Of Love
Genre : Indie Dance
The Modernist is Jörg Burger and Joe Goddard is from the famous Hot Chip working together on this "…nostalgia-house that's custom built for late night walks back from the club of your dreams…", and so it is! Jörg Burger is also known as Burger Industries, Triola, the Bionaut and here, The Modernist. He's worked with Kompakt founder Wolfgang Voigt – catchily known as "Burger/Voigt". He cites his influences as Aztec Camera, Orange Juice, Scritti Politti and the Smiths (really?). He's been around the Cologne scene for quite some time – he set up the Delirium record store which mutated into Kompakt in 1993, so he's seen a few changes then – he's quoted as saying : "Everything has been said as far as minimal techno goes . . ." – in the mid 1990's – not sure about that!
Joe Goddard is a member of Hot Chip – that chart topping, Grammy/Mercury award winning "indietronica" band we know of. He's been here a while too, starting in 2000.
10. Sonns – Teacher
Genre : Indie Dance
Another Old Timer – Alexandre Mouracade's roots were the in Los Angeles in the late 1990's, and following the California punk scene, then did a course in jazz improv and got into New York disco (not quite my taste, personally, but this Teacher track is fine by Kompakt standards!). He's worked with Simian Mobile Disco, DJ Harvey and Derrick May and continues to "...give Los Angeles the attention it deserves as a bastion for dance music…" – Kompakt.
11. Wassermann – Die Schallplatte (Video Mix)
Genre : Electronica
I like this track a lot, Schallplatte sound much more interesting than it is – it's a record. Perhaps the vocoded German vocals sound a little too Kraftwerk, but that's fine by me. It also explains the video :

Why do i like it so much? Well Wassermann is the one and only Wolfgang Voigt, by now you'll know he's a Kompakt founder and prolific producer under many different names (All, Auftrieb, Brom, C.K. Decker, Centrifugal Force, Crocker, Dextro NRG, Dieter Gorny, Gas, Digital, Dom, Doppel, Filter, Freiland, Fuchsbau, Gelb, Grungerman, Kafkatrax, Love Inc., M:I:5, Mike Ink, Mint, Panthel, Popacid, Riss, RX7, Split Inc., Strass, Studio 1, Tal, Vinyl Countdown, W.V. and many more). His most influential work is under the Gas moniker – and a re-release of his Gas output is available for pre-order at Kompakt, due out in October 2016. I wrote a bit about it in my last post.
12. The Silent Ones – Magical Party (Jonas Bering Mix)
Genre : Indie Dance
These are another duo – this time from France aka Aalik and Fred Traverso. The original Magical Party tune isn't quite to my taste, bit too pop for me, but the remix by Jonas Bering is quite different indeed – lots of repetition and winding the dreamy vocals around the beats.
Jonas Bering, also French, starting out in 2000 – he seems to like 'melodious klicker pop and transparent noble minimalism' according to his website – can't argue with that, this mix is nice!
13. Dave DK – Kronsee (Ulrich Schnauss Mix)
Genre : Tech House
David Krasemann, aka Dave DK, released his first record on Müller Records in 1998. In 1999 he became a resident DJ at Tresor/Globus club in Berlin, no mean feat, and Kompakt have given him high praise indeed for his 2015 offering : "Val Maira" – they say it's Their Perfect Kompakt Album – not previously released by them until now. I'm actually off to buy it now at Amazon with that natty one-click thing they have, looking forward to it!
Ulrich Schnauss is is a German electronic musician and producer based in London. His first album, "Far Away Trains Passing By", was released in 2001, influenced, among others, by Tangerine Dream. Now it is most odd that of all the German DJs and producers, this is the first guy to mention Tangerine Dream, who, with Kraftwerk, did most to get that German synth sound out into the world, I wonder what that's all about?
That was CD1 – next time, guess what, CD2! I hope you find this useful and aids your listening pleasure a bit, researching it (well, you know) certainly helped when listening to the individual tracks for me.
You can get the Kompakt Total 16 2xCD from : Kompakt or iTunes.
Comments welcome, and you can sign up for the email-when-a-blog-is-posted on my Subscribe by Email section on the right there.
Happy listening!
CheersO,
~andy~