What? Best noise cancellation headphones? Have I gorn mad or something? Surely, noise and feeling the beat are my thing, so what's this all about, eh?
Well, I did wonder if it was possible to get some groove into your soul using headphones, everyone's doing it these days, people wandering about staring at their screens with mahoosive cans around their heads, oblivious. So, perhaps there's something in it …
Whadya want them for?
So, first thing, I'm interested in looking a these 'ere cans just for listening to stuff, not mastering, not DJ'ing (ah, one day perhaps), and not flying an aircraft (seemingly one popular use of noise cancelling headphones, and, ah, yes one day too).
DJ headphones are a different breed, and you probably only want to hear the beat, and the beat only, not the subtleties of a finely tuned sample. And, again, mastering headphones need to be pretty flat in EQ, I'd say (something for another blog p'raps, let me know).
So, listening then. To bonkers electronica.
To cancel or not to cancel, that is the question
I'd say that listening intensely to some of the music that we like here would be most rewarding, we can hear the subtleties of a finely tuned sample (did I already say that?) and the full stereo effects that are striven to get to, plus the space – high/low/back/front that you wouldn't get from speakers. Unless you sit with your eyes shut in front of them at a high volume – not always practical, or comfortable.
So to get that nice clarity, having the extraneous noises removed is going to be bliss! Noise Cancelling (or canceling, for our US chums) headphones will add that serenity, especially to the Hardcore / TerrorCore aka Doomcore aka Deathcore sweetness that's around (see this lot…).
How does it work?
Like this :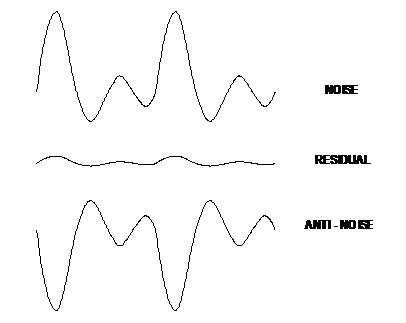 If you're a techie, that'll make sense, if not, it won't, so I won't explain it all – just to say that these NC headphones are quite safe, they actually do reduce the level of sound your ear gets to hear, and so you can listen to stuff at a reasonable volume, and only hear the bonkersness, not the car revving outside, or the huge sausage factory next door, turning out sausages. Interestingly, some of the early versions of noise cancelling technology relied on the general rhythmic nature of much background noise, because it's mostly man-made. And there's plenty of sampling opportunities there, hmmm…
Here's another diagram, for funsies: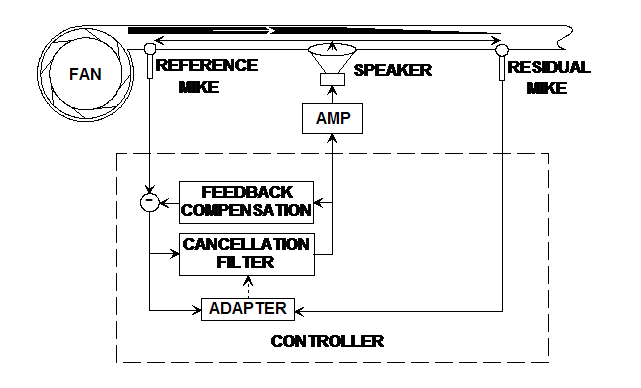 Best NC Headphones, then
Here's a list I've culled from t'internet, all of which seem to appear on all best-of lists, plus one of mine own choices at the end, with a reason …
Bose QuietComfort 35
I've listened to these in a Bose shop, and they are pretty amazing, lovely looking and nicely packaged. Splendid reviews about for these, such as "Tested this against a playground full of shouting schoolchildren and also a wood lathe and no noise interference whatsoever.", "these Bose headphones oozed quality", etc. Expensive though, so recommend going to a Bose shop and listening to them, and get some good Bose service into the bargain.
Pic unavailable, soz!
How much : £290
Get from : Bose shop or Amazon.
Sony ZX770BN
A third of the price of the Bose QC35's, and seem to do a good job, one reviewer said : "The sounds from these headphones is full and smooth, the favour the low end but don't have booming base", which is what we like!
Pic not here, sorry.
How much : £100
Get from : Amazon.
Sennheiser Momentum Wireless
Always a bit of a world-leader in headphones, they don't make much else it seems, so they should know their onions. "simply breathtaking listening to any type of music", says one reviewer, and that's what we like to hear, breathtaking – try them out, I'd say! Bit pricey though, but you gets what you pays for.
Pic also not hee, sorry!
How much : £380
Get from : Amazon
AKG N60 NC
AKG are also known for their decent mastering headphones, so no stranger to doing the thing. "The AKG's deliver a fantastic range, great treble, full mid-ranges and some decent but not overbearing bass.", one reviewer says.
Yup, not pic.
How much : £200
Get from : Amazon
Bowers and Wilkins P5 Series
Ah, now here's the thing, these aren't noise cancelling, as I found out when I listened to them in John Lewis the other day (there were TV's blaring etc etc), but they do sound fabulous, if you have a quiet room to sit in. A bit of a thing for me, B+W, 'cos I used to work in a small Hi-Fi shop in Worthing, Sussex (England!) called, "Bowers and Wilkins", and worked for Mr Wilkins. The visionary Mr Bowers set up a speaker factory somewhere else in Worthing. So, yup, I'm a bit biased here, but these headphones did sound good.
Pic went here.
How much : £330
Get from : Amazon
So, there are my arguments for getting a decent set of NC headphones, as you probably can tell, I've not been able to go out and buy them all to try out, but I'll be saving my pennies for one of them soon.
I'd be really interested in what our Electronica fans think of sitting listening to the bonkersness with headphones – what impresses you most?
Leave a comment!
CheersO
Andy