There's only one :
The TECHNICS SL-1200 Mk.II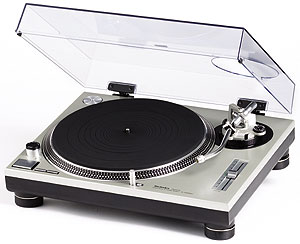 Technics stopped making them in 2010 (from starting production in 1972) – but, there's a new version out at just now ('summer of 2016', ha, summer, when's that going to happen?) – the SL-1200GAE.
How close to the original are they? Not going to answer that, only time will tell (ie in another 40 years…).
Why was the SL-1200 Mk.II so popular with DJ's?
The quartz-controlled high torque direct-drive motor, no rubber belts
Built like, and weighed as much as, a tank
Very low wow-and-flutter
Ability to change the pitch for beat matching.
Fast response to physical slowing of the platter back to proper speed, no overshoot. This led to that ol' 'scratching' vibe
0 to 33¹⁄₃ RPM in less that 0.7 seconds!
Unfortunately for Technics – very high reliability that meant they didn't sell many 🙂 [well, about 3 million, actually]
Seemingly, DJ's could 'play' the thing, just like an instrument, so responsive was it. Hence the Iconic Status of the SL-1200 (ones and two's, wheels of steel, etc, etc).
There appear to be some original ones available at Amazon, but make sure it's da real ting now, before buying.
More here, here, here, here and on Wikipedia.
Do you have one? What's it really like?
CheersO
Andy